We have handpicked five amazing sewing patterns, instructions and videos on a mini sampler membership site to give you a taste of the quality of our sewing patterns and a smaller sized example of the library site experience you would have on our paid membership site of 125+ patterns and 46 videos.
Five Free Patterns on a Mini Sampler Site
Simply head over to www.sewingpatternsecrets.com/fivefreepatterns and sign up to receive access to the platform where everything is stored.  You have lifetime access to these patterns and videos, so you can download if you like, or leave them there to access when you want them.  Just remember to create a bookmark/favorite in your browser and save your password for future easy access.  These patterns are carefully selected to showcase the variety and versatility of our collection.
See Photos and Video List Below
Access to our 125+ Patterns for $67
Once you've had a chance to sample these patterns and experience the joy of creating beautiful garments, we know you'll be hooked.  That's why we want to offer you an opportunity to own our entire collection of 125+ sewing patterns at an incredibly low price of just $67.
Imagine having access to an extensive library of patterns that cater to every style, occasion and skill level.  Our sewing patterns cover a wide range of garment, from baby to grandpa.  The possibilities are endless!
We believe that sewing should be an enjoyable and enriching experience. That's why we provide in-depth instructions with each pattern, ensuring that you have all the guidance you need to bring your creations to life.  In addition, our package includes 46+ instructional videos and a wealth of sewing resources to help you refine your skills and explore new techniques.
So, when you're ready, see the offer here:
The only way to purchase our patterns is to access the offer here.  Grab this deal now.  Don't miss out on the chance to own a treasure trove of sewing patterns and resources that will inspire and empower you on your creative endeavors.
Photos of the 5 Free Patterns
Get 5 Free Patterns and experience from our Sampler Site, what our library of over 125 patterns and instructions, 46+ videos and tons of resources is like.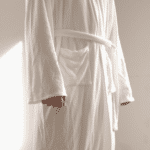 Videos on the Five Free Sampler Site
In addition to our videos on how to print the prep and print the patterns, and pattern specific video shorts mentioned above, we also provide other general reference videos like, How to Work with Satins.  See the blog on satin and the video sample at the end of the blog.
See some of our videos in our DIY and Tutorial blog articles, like The Burrito Roll.
The free videos included in our 5 Free Patterns Sampler Site are:
The Men's Robe Top Pocket Assembly
The Women's Classics Shift Dress Bust Dart
The Women's Shift Dress Burrito Roll for V Neck
How to Prep and Print the Patterns
More about our Membership Sites and What is Inside