Have you found the idea of getting started sewing daunting?
The research involved in purchasing the sewing machine is enough to make you abandon all thoughts of sewing.
Since the pandemic, everyone wants your money for DIY, and the price of sewing machines has gone up exponentially.   Don't give up! We were able to find a Sewing Machine and basic/decent tools for under $250.  The machine has warranty when purchased properly, and is a very good machine.  It's no Huskavarna, sad to say, but it is perfect to get started.  The long bed on the machine is good for smaller quilts, but disclaimer: the opening at the arm will not allow space for Twin Sized bed quilts and up, or bulky large garments like Polar Fleece Robes.  
We have found a perfectly great sewing machine; a sewing kit with stitch remover and paper cutting scissors; a middle to higher end set of tailor scissors and snips, and a good quality all purpose thread combo (Coats & Clark) to get you started on your sewing adventures. (FYI, Don't settle for junk thread!). Additional Tools?  There may be just a few tools needed in addition to the tools we've listed below, but it is best to wait until you know what your first project is, before investing additional money into it.
Below is a detailed list of the sewing supplies a beginner can find on sale at Walmart or Amazon to start their sewing adventure. (Updated 8/2/23)
Sewing Supply
Description
Price
Coats & Clark All Purpose White Polyester Thread
500 Yards
$4.50/ea
Brother XR3774 Sewing And
Quilting Machine
With 37 Built-In Stitches, Wide Table, 8 Included Sewing Feet, Free 90-day returns
$159.99/ea
Includes 8.5 Inch Heavy Duty Tailor Shears, Detail Scissors, Thread Snips, Rotary Cutter and Blades
$32.99
$3.99
Coats Dual Duty XP General Purpose Thread
Assortment of 4 colors (White, Natural, Grey, Black), 250yd each
$9.49/pkg
Total: $210.96 plus tax and delivery.
125 Sewing Patterns, Instructions and 46+ Videos for $67!
You are not imagining it!  It's true.  We have created a pattern library full of patterns for you to enjoy endless opportunities in sewing on a budget.
There is something for everyone in our database and we include extensive instructions, 46+ video shorts for tricky parts.  You generally will not have to surf the web to sew our patterns.  
Out of our 125+ sewing patterns, we have children's costumes, infants clothing, women's clothing, men's clothing, kid's clothing, pocketbooks, aprons, a few dolls and stuffed animals, scarves, hats and a few plus sized pieces.
One Stop Resource for Your Sewing Projects
For the most part you should be able to find what you need all in one place.
You need not even leave your home, as our books include extensive information on buying fabric online and fabrics in general, comprehensive information on sewing machines and their parts, how to use them and care for them, reviews from different shops, their stitches and how to use them. We have comprehensive embroidery books and repurposing books as well. 
We have videos on printing our patterns and prepping the patterns for US, Canada and Europe.
You will not need to get lost on YouTube and lose your focus on any shiny objects. (Like what happens to me!) 
We have the complete list of what you will need for every pattern in the pattern instructions document and we provide images of our sample, fashion illustrations, vector art and step by steps.  We have links to similar fabrics for many of the patterns as well to make it easier to purchase whilst you are in the membership site.
OR Match the fabric in your stash to our patterns.  We even have printable forms for you to label your fabrics with, so you will always know the fabric's composition even years after you've purchased it.
Learn how to determine the stretchability of your fabric to know if it will work with a particular pattern!
If you are serious about getting started then our Paid Membership Site is just for you.  Click to see the Video Offer, or if you already know you want to buy, click here to by-pass the video.,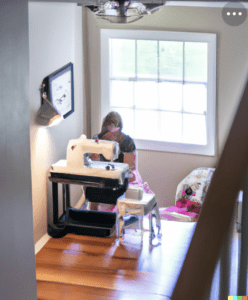 You only need a small space approximately 5ft deep x 6ft wide and a stable card table to get started.
A niche under the stairs, a closet, a corner of a room, but height and light should also be considered.  You will want to stand up and you will want to see daylight, so keep these things in mind.  An electrical outlet to support lamp and good lighting, and the sewing machine.
Printer Space:  You do not need to have a printer at home.  You can order printing online or go to your library, church, or local copy store for a few projects at a time.
Storage for our Patterns.  You can keep all patterns and instructions on the site and download to computer as needed.  When we complete a project, we simply fold our paper pattern and instructions up, insert in plastic sheets with the cover on the front, and use a bankers box for our storage.
Fabric Storage:  Learn to only purchase fabrics you plan to use and try not to build a stash for the some days….  However, if I'm too late for that advice, consider that the fabric does not have to live in the same space as your machine.  In fact, it will stare you down and give you a guilt that may cause paralysis in sewing… So keep it away from your work space.  Keep the work space clear and only for the project at hand.
What's Better Tissue or Digital Patterns?
Tissue Patterns vs Digital Patterns and a Printer
Of course the $250 does not include your fabric and patterns.  A complete beginner can find muslin and broadcloth fabrics for beginner projects for under $6.99 a yard at Walmart, Michaels, and Joann.  You can also find patterns at a discount price (in person) at Joann about every quarter.
If you are using old school traditional tissue patterns, you do not need a printer.  However, if your primary focus is PDF patterns and printing, you will need a decent printer, most likely a laser printer and color would be nice.  You can print patterns successfully with just black and white printers.
When printing with only black and white, to help with an occasional confusing line, you can use a highlighter pen to mark the grading on the printed paper pattern. Some pattern makers offer layered patterns per size, which is nice.  A color printer will run you at least $300, plus color cartridges.
Let's say you are going old school.  You will likely find newer tissue patterns on average for about $12.99, if it's not on sale.
Fabric and notions may run a beginner (working a very small project) approximately $20 for discounted or sale-priced fabric.
So add about $40 to the total above to include a budget for fabric and pattern.
Projector Equipment and Projector Patterns
The old school and printer methods are still far cheaper than these new projector combinations for the complete beginner.  The projectors need to be mounted on the ceiling and will run about $800 plus the files and generally, so far, if you purchase a brand name projector, you must use their projector files.
It's too early to say if Joann will discount the projector, but usually the equipment at these discount stores are not included in any coupons or sales.
As far as patterns for these projectors, let's assume they have a few starter patterns, it is likely they will upsell you on any additional patterns.. at least while they roll these projector "bargains" out.
But these projectors have only recently become available to the masses.  Let's see how this all pans out
Recent Posts