Enjoy making this Beginner Friendly Hobby Apron.  Use for Grilling, Gardening, Painting and Art Class!
One of our over 125 sewing patterns for one time $67 in our pattern library.  >>Click Here to see how to purchase this pattern library.  
We also have a child's size hobby apron available now on the paid site,.  See the blog here.
If you already saw the video and you want text-only version of our offer, click here.
Hobby Apron for Under $10 in supplies, Easy and Fast!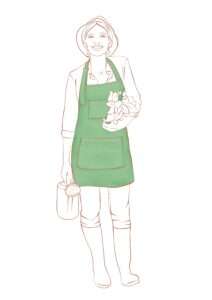 Women's Hobby Apron: Beginner Level
Small, Medium, Large, XLarge
This pattern is great for a beginner.  The top pocket (instead of complicated pockets) and the assembly make this beginner able.
Fabric is also great for a beginner:  Up to 7-8oz Twill, Denim, Coating, Corduroy, Canvas, (Garbardine is good, but the surface will repel liquids to drip down)
We used a beautiful Japanese Twill and we've found a similar 100% cotton twill to suggest. 
Two video tutorials are included in this pattern.  One for the TriGlide Metal fastener and one for the top pocket.  Availble only on the paid membership platform.  
Recent Posts