Upcycling and Repurposing Clothing: Sewing Tips for Making Clothes without a Sewing Pattern.
DIY Sewing Tips for Today's Sewist
Following in the footsteps of my grandmother…
My father, Kenny, is pictured with my grandfather just before grampy shipped out to Africa in 1944, serving in the Army Aircorp, during WWII.  He received the purple heart and bronzed star for his service.  My grandfather passed away in 2018 after a very good life at the age of 100.  
My dad is wearing a one-of-a-kind jacket, designed and sewn by my Nana, repurposed from one of my grandfather's old peacoats.  Nana's family had come to Chelsea, Massachusetts from Biolystok, Poland in the 1920s.  She had only a sixth grade education, quitting school to supplement the family income, but she had gained skills as a seamstress which also benefited her when she had her own children.
I had been dying to recreate this toddler coat by the same methods my grandmother would have.  Nana needed no manufacturer's pattern to make it.  She would have fashioned it or created her own pattern based on several factors from the host coat.  She would need to work around the existing pocket type and position, lining/no lining, side seams, sleeve type, etc.  She would have carefully examined the garment, created a pattern out of paper, tried it in place until the design would fit to her satisfaction.  She would have planned the measures and starting cutting right away..likely finishing the project within a day or two.
Nana's generation of sewers were so skilled in fact, they created detachable collars and covered their own buttons. purchased at stores that have long since vanished, like Woolworths Department Store.  
We will share with you over a course of a few blogs, how we found an old coat to repurpose into a toddler sized jacket very similar to my dad's coat.
We found that we needed only a few tools and started with a small men's blazer we found on consignment.
Upcycling Challenges
We found there were several challenges along the way.
The Upcycled Host Coat
We found that contrary to our original thinking starting from a men's coat sized small, was actually not the best way to start.  The bigger the host coat, the less time spent thinking about how much fabric is usable.  The small coat caused restrictions in patter placement, which caused extra time in planning.
Welt Pockets
The biggest challenge was the welt pockets, which needed to be salvaged and not cut into.  We needed  to consider the side seams, which were too far away from the welt pockets for proper placement for a child's coat.  So we designed a front panel pattern piece from a similar child's coat (using the punch method, we will be explaining later on in our blogs) and examined and decided that we had enough space to create a bodice pattern front panel.  We took the seams out and trimmed the side seams including the lining keeping some seam allowance for later. 
Watch for our blogs to learn more about this sewing project.. Sign up for newsletter alerts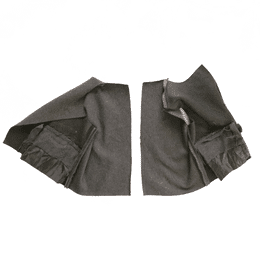 Recent Posts