Introducing our two one piece jumpsuits for Girl's sizes 5 to 12!  
These are intermediate patterns requiring very few notions.  They are intermediate for the fabric type which is sometimes difficult to work with.
For easiest sewing, try mid-weight stable double knits, like double ponte and some of the scuba knits made in a blend of poly/spandex, which will make it easier to work with.  Stay away from fabrics that fray.   Cotton interlock is very good and also organic cotton stable jerseys.  Spandex up to 5% will add some body to the fabric and keep it easy to work with.
The fabric requirements are under 2 yards and you can use the same fabric for the neck and armhole bias.  Alternatively, new sewists may like to purchase a matching bias tape for ease but it is difficult to find matching bias tape.  Try Etsy to see if they have some deals, or Amazon for premade.
Advanced sewists might try making their own from our pattern pieces.  It is not as easy as it looks to make and fit the bias tape, but we have videos on how to make and sew on the French bias tape on our paid site.  
If you haven't already purchased our 125 sewing patterns for $67, check out our offer on www.sewingpatternsecrets.com/sps-intro
The Ginny Jumper: Intermediate / Advanced
Fabrics:  Stable or Double Knits of Medium Weight: Double Knit Jerseys, Knits, Double Ponte, Double Jerseys with 50% 2 or 4 way stretch.  Cotton Interlock with Poly Blend.
Composition:  Cotton 95%, Lycra 5%, or Modal 95% Spandex 5%, 
Notions: 
 3-5 Buttons,
Snaps
or Alternative Closures for the back
Neck and Armhole Bias Binding Pattern Included.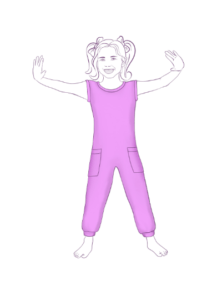 A light weight fabric of about 3-5oz is required because of the cuffs on the Penny Playtime Pattern.  Too heavy a fabric makes the gathering on the cuffs extremely difficult to join and to fit in the sewing machine.
Make sure you have a detachable arm surface, so that you can fit the cuff/leg combination around the arm to stitch a straight line.  If you do not have this ability on your machine, do not add the cuffs, but instead elongate the pant and sew a nice hem instead.
Fabrics:  Stable or Knits of Light to Mid Weight: Knit Jerseys, Knits, Ponte, Jerseys with 50% 2 or 4 way stretch.  Organic Cotton Interlock.
Composition:  Cotton 95%, Poly 5%
We used:  Merchants Brand 100% Cotton Interlock
Neck and Armhole Bias Binding Pattern Included.
Try matching the pockets to the neckband and have a different color cuff.
Recent Posts